Nearby Downtown Eastside business associations and tourism developers are meeting this week to discuss the role they can play.
Content of the article
Travel websites suggest you could easily spend half a day in Vancouver's Chinatown and check out the historic district, exotic restaurants and specialty shops.
Content of the article
But in recent days, the comments left by visitors on Tripadvisor have not been so flattering.
'Doesn't feel safe', 'Forbidden area' and 'Avoid, avoid, avoid shocking, sad slums', were some of the descriptions left by tourists from India, the Netherlands and the UK . Others mentioned random violence, widespread graffiti and dire conditions for the homeless.
Nearby Downtown Eastside business associations and tourism developers are meeting this week to discuss the role they can play in improving those bad first impressions.
"We heard about conversations with tourists and concerns about some of the things people see on the streets. There's this sense of a dire situation here in the Downtown Eastside and it certainly worries us if it's going to impact tourism," said Walley Wargolet, executive director of the Gastown Business Improvement Society.
Content of the article
It comes as the City of Vancouver works to demolish makeshift shelters on East Hastings Street between Main and Carrall streets due to fire safety concerns.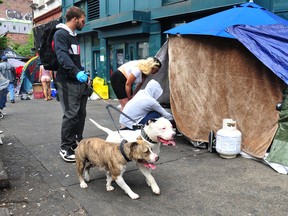 On Sunday, the mayor called on the provincial government to reform the justice system to deal with prolific offenders who endanger public safety and address the need for mental health services after a suspect set fire to an apartment before d attack its residents with a machete.
"We continually stress that we know there is a humanitarian crisis facing us – with this encampment and the encampments in our town – and just the lack of places to go. But then we also have to look at the wider community and the impacts that will have as well," Wargolet said.
Content of the article
He said with the pandemic still ongoing, many businesses are still struggling to recover even though there has been more traffic on the streets in recent weeks.
"We need years for that to happen, and if there's a bruise on the brand image of what Vancouver is, and if that has a negative impact and people don't want to visit our city , that's a huge concern that we have and that's something we need to address.
Destination Vancouver CEO Royce Chwin said his organization's responsibility is to ensure Vancouver can emerge from the pandemic with a vibrant tourism economy, worth $5 billion a year and employing more than 100,000 people. . He said there have been negative tourist reviews of these downtown areas for more than a decade.
Content of the article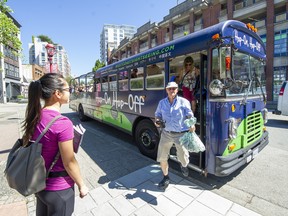 Abelardo Mayoral-Fierros has been booking international bands at venues such as the Rickshaw Theater on East Hastings Street for years. Its returning visitors have long said that certain conditions in the Downtown Eastside line up along the streets of tough neighborhoods in San Francisco or Detroit.
But recently it seemed worse, he said. In April, a band's tour bus was tagged with graffiti, and members found people who had overdosed next to and underneath it. He now hires extra security to watch over their parked buses.
"I always do it because the venue inside is awesome. During the day, outside, when we unload, we hear screams. It's more aggressive than before," said Mayoral-Fierros.
Lorraine Lowe, executive director of the Dr. Sun Yat-Sen Classical Chinese Garden, said employees were greeted with racist anti-Asian tirades upon arriving at work, as well as waves of vandalism, and litter and excrement. regularly left at their gate.
Content of the article
"We are very careful when asking visitors to return to the waterfront, making it clear where (not to go), and to take an Uber or taxi or walk to Abbott Street and travel north ."
She has been in contact with her counterparts in Portland and Seattle and said they are reporting a similar situation with the concentration of poverty and addiction treatment services.
Lowe said it was complex, but the result is that some of the poorest and most marginalized residents living in East Hastings ORS feel unsafe in their meager spaces, being yelled at and assaulted.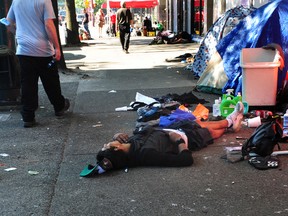 Jordan Eng of the Chinatown Business Improvement Association said small business owners were trying to feed their families and take care of their homes and employees.
Content of the article
"We grew up in this neighborhood. It has always been a low income area. The ORS were where the loggers and miners were coming in and they were drinking in pubs and getting drunk and messy, and they stayed to dry off and get back to work," Eng said.
"It's a totally different situation. You look at people who have just passed out.
---
More news, less ads: Our in-depth journalism is possible thanks to the support of our subscribers. For just $3.50 a week, you can get unlimited, lightweight access to the Vancouver Sun, The Province, National Post and 13 other Canadian news sites. Support us by subscribing today: The Vancouver Sun | Province.